Project Summary
The Vermont Agency of Transportation and the Federal Highway Administration are upgrading a 6-mile long portion of Vermont Route 78 here in Swanton.  The road work will improve safety along this heavily travelled road. 
In advance of the planned road construction, VTrans is funding archaeology in the construction area to ensure that significant archaeological sites are investigated prior to construction. This is required by the National Historic Preservation Act, a federal law that protects important cultural resources. Two archaeological sites are present along the roadway which document 7000 years of Native Americans living in the area.
A portion of the project extends through the Missisquoi National Wildlife Refuge, an area that abounds with wildlife and other natural resources. This beautiful setting is the traditional homeland of the Missisquoi Abenaki Tribe who reside here today.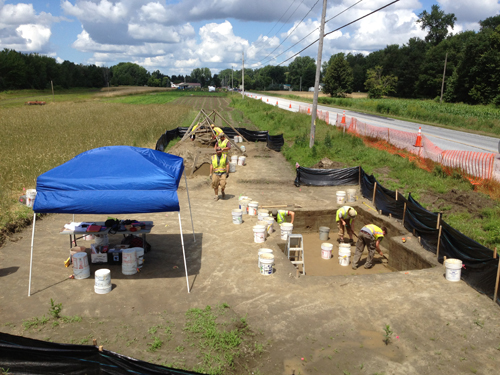 Contact us for more information on Tours, Talks, Volunteer Opportunities, and other fun and educational activities.
nearc@nearchaeology.com
(207)860-4032
weekends please call
(802)673-3689
In celebration of Vermont Archaeology Month in September, the Northeast Archaeology Research Center and the Vermont Agency of Transportation welcomes all to the following events at the Route 78 Archaeology Project in Swanton, Vermont:
 On-Site Archaeology Open House (September 20 - 22, 9am to 4 pm):
Presentations, site tours, and volunteer dig opportunities at this extraordinary site that reveals at least 7,000 years of Native history along the Missisquoi River.
Lab Demonstrations (September 20, 12 pm to 4 pm; September 21-22, 9am to 4 pm):
See some of the artifacts from the 2013 excavations at the Native American site in Swanton.  Learn what archaeologists do in the laboratory- watch how the artifacts are cleaned, catalogued and analyzed; see how soil samples from fire hearths, storage pits and other features are "floated" to recover small fragments of plants and animal remains; observe how artifacts are replicated, using rubber molds and plaster casts.
Celebrating Abenaki Traditions (September 21, 10 am to 3 pm):
Abenaki Elder Charlie Ives tells traditional Abenaki stories and Cookie Barratt, Abenaki Elder and craftswoman, provides a hands-on opportunity as she demonstrates making traditional medicine bags.
Nineteenth Century Photography Demonstration (September 21 - 22, 9am to 4 pm)
Photographer Scott Anton demonstrates the 19th century wet collodion process.  This process, which produces a glass negative and a finely detailed print, was used from the 1850s to about 1880.
All of the above events will take place at the Maquam Trail Head, Missisquoi National Wildlife Refuge, Route 78, Swanton, Vermont.
Archaeology of the Missisquoi Delta, Recent Discoveries Presentation (September 21, 7 pm):
Archaeologists will discuss and present information on the new archaeological discoveries of the Missisquoi Delta region. This presentation will take place at the Headquarters of the Missisquoi National Wildlife Refuge, 29 Tabor Road, Swanton, Vermont.
Click here for a Calendar of Events
Click here for pictures from this years excavation
In the News