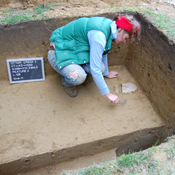 The NE ARC is a privately owned company located in Farmington, Maine. Located, in the foothills of the Western Maine Mountains, NE ARC is centrally located in the northern New England region. The NE ARC is committed to historic preservation and provides a wide range of high quality and cost effective cultural resource management consulting services to its clients. The organization is a for profit corporation established in 2008, registered in the State of Maine and self-certified with the CCR (Cage #5AM59) as a woman-owned, small business. Ellen R. Cowie and Robert N. Bartone serve as the two principal officers and sole owners of the business. The NE ARC team was formerly the University of Maine at Farmington Archaeology Research Center (UMF ARC) which was founded in 1984, but upon the decision by UMF to phase out the consulting archaeology program, Ellen and Robert established a private corporation to continue the work that they had successfully conducted in the University-based setting for 26 years.
The principals and staff have over 27 years of consulting archaeology experience in northern New England, primarily in the States of Maine, New Hampshire and Vermont, and have completed several thousand cultural resource consulting studies during this time. These efforts are directed at cultural resource management studies for corporate, private, federal, state and municipal entities; these efforts being the direct result of historic preservation legislation as one compliance component of environmental studies.
The NE ARC co-Principal Investigators and Directors, Ellen R. Cowie, Ph.D., and Robert N. Bartone, M.A., in addition to Stephen Scharoun, M.A., Project Director/Historical Archaeologist, and Gemma Hudgell, Ph.D., Project Director/Prehistoric Archaeologist are highly qualified with experience far exceeding the Secretary of the Interior's minimum professional qualifications for archaeology (Code of Federal Regulations, 36 CFR Part 61; Federal Register 48, 190:44738-44739). Dr. Cowie along with Bartone, Scharoun, and Hudgell, are qualified to perform all levels of cultural resource work in Connecticut, Maine, Massachusetts, New Hampshire, Rhode Island and Vermont, although our area of expertise is primarily in the northern New England states.
NE ARC serves a diversity of private concerns including developers, utility companies, telecommunication developers, paper companies and engineering and design firms. Particularly germane, NE ARC clients, directly, or as sub-consultants, include a range of state and federal agencies including the Vermont, Maine and New Hampshire DOTs, Vermont Agency of Natural Resources, several town municipalities, Vermont Army Reserve, U.S. Customs and Border Protection, U.S. Army Corp of Engineers and NAVFAC. NE ARC has or currently holds general contracts for archaeological services with the Vermont Agency of Transportation and the Vermont Agency of Natural Resources.
Specifically, for Maine, Robert Bartone and Ellen Cowie are approved on the Maine Historic Preservation Commission's Prehistoric Archaeology Level 2 list. Stephen Scharoun, NE ARC Historic Archaeologist, is approved on the Maine Historical Archaeology Level 2 list. This qualification is a Maine SHPO requirement for consulting archaeology in Maine and allows us to perform all levels of archaeological investigations.